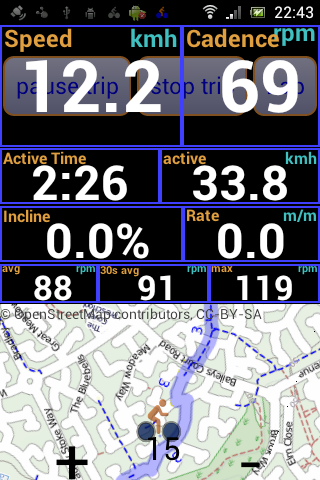 The main mixed display is similar to the old style single screen setup. 
A main sensor readout area is overlaid onto the main start stop buttons which can be pressed whether on top of or below the sensor readout. 
Under this there are 3 group lines in this case showing active time and speed, incline and rate of climb and Average recent and max cadence. 
What you get to see by default depends upon your phone and what sensors you have.  If you don't have the necessary sensors active then the relevant fields will automatically not be displayed once you start riding.
The default setup depends if your phone looks to be ANT capable and whether it has a pressure sensor.
The ANT related fields are only in the default screen setups on an ANT capable system.  The Incline and climb rate information is more prominent with a pressure sensor based phone as with gps only setups this information although available is of low quality due to gps altitude inaccuracy's.
Below the group lines we have the remaining space taken by the Map, Plot or workout controls.  I this case the map is showing.