---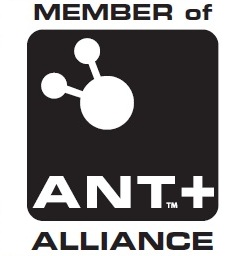 News
Jan 2, 2012
Category: Website
Posted by: ifor
OK upgraded the site CMS system just now to 1.10.2.  hope everything still works.
Oct 30, 2011
Category: Website
Posted by: ifor
Added a blog section to the site.  I need to sort out the templates a bit as things are not looking so good.

Sony SmartWatch
Smartwatch support was added with version 1.0.9 of IpBike.  The support in it's current from basicaly lets you control starting and stoping activities from the watch.  You can then view the main sensor data e.g. Speed, cadence, heart rate and power as well is trip active time and distance.  You can also control a workout so as to be able to do interval sessions etc.  There are 3 basic screens, control, sensor data and workout.  you can switch between them by swiping up and down.
Control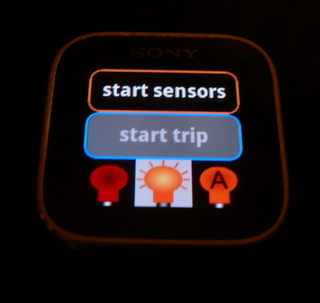 There are icons at the bottom of the control screen to control the smartwatch backlight.  Dim, Bright and automatic.  then you have buttons to start sensors or start gps and start and stop the trip as well as to manualy add a lap.  On pressing start sensors if needed you will have to select your bike, you get presented with a list you can select from you can swipe up and swipe down to move between bikes on the list.
Snesor values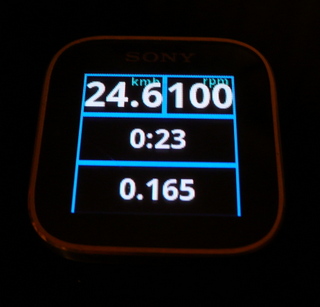 The sensor values screen should configure itself automaticaly with the values from the relervant sensors at the top above the active time and distance for the trip.  The only control avalible on the sensor screen is a simple press to toggle between pace and speed.  A long press will intert a lap.
Workout Screen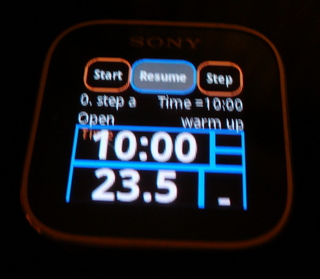 The workout screen esentialy replicates the workout controls from the phone app.  Yopu get the nessasary buttons at the top and then details about the current step that update as it progresses.  the watch will vibrate to give you feedback as the step progresses.